Cameo Garments has been built on exceptional quality and innovation with over 3 decades of manufacturing expertise that gives us a heritage unrivalled in the marketplace. Our gamut of knitwear & hosiery garments in statement colours with striking prints & strong tailoring create a truly contemporary and versatile look.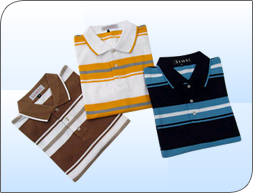 With a production capacity of 60000 garments a month, Cameo Garments offers customers with a comprehensive range of garments and accessories besides bespoke collections specific to their varying requirements. With complete in-house facilities & infrastructure integrated with cutting-edge technology driven by a dedicated work force, we specialize in the manufacture of Men's wear, ladies wear, Kid's wear, Sports wear, Formal wear, Casual wear, Sleep wears, Knit wear, Woven wears, Pyjama sets and Shirts maxi gowns.
Stylish ,Trendy & Quality define the very making of Cameo Garments. It was before 3 decades that two vivacious entrepreneurs - M.Sasikumar & M.Senthilkumar joined hands to begin their journey in pursuit of manufacturing quality knitted & hosiery garments in the "Cotton city of Tirupur" . Cameo Garments was born due to their unrelenting efforts, then as an inner wear company. The rest is history as it grew from strength to strength to integrate its own Dyeing (Bleaching), Embroidery and Printing & Packing unit.
Thanks to our marketing expertise and innovative design, we are capable of manufacturing, supplying and exporting high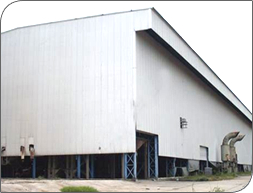 quality knitted & hosiery designer garments with a blend of distinct texture, design and colours - purely, a reflection of our excellent craftsmanship and style to suit the ever-changing needs of our clients across the sphere.
With a unique mix of traditional and contemporary styles, our brand portfolio of products include Men's wear, ladies wear, Kid's wear, Sports wear, Formal wear, Casual wear, Sleep wears, Knit wear, Woven wears, Pyjama sets and Shirts maxi gowns.
About Tirupur & Travel Information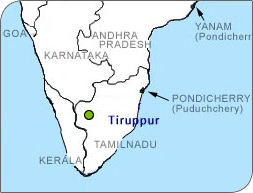 Tirupur - the hub of Tamil Nadu's cotton knitwear industry markets its products in India and overseas. One of the fastest growing cities in India, it is known as the " Knits Capital of India " as it caters to renowned brands retailers across the globe. The nearest international airport is the Coimbatore Airport.
The busiest roads in the city are Kumaran Road & Avinashi Road, while Palladam road, Kangeyam road, Dharapuram road, Mangalam road, Perumanallur (PN) Road, Uthukuli road, College road are the arterial roads of the city. The business district is near the old bus terminal area, but is gradually expanding towards the north.

Tirupur is well inter-connected by Moffusil bus services to all major routes, towns and cities across the states of Tamilnadu, Kerala, Karnataka and Andhra. Tirupur also boasts of a railway station and 2 bus terminals. Tirupur is well connected by trains to major South Indian cities including Coimbatore, Erode, Salem, Bangalore, Chennai, New Delhi, Mumbai, Calcutta, Kochi, Mangalore, Kumbakonam, Madurai, Vellore, Tirunelveli, Nagercoil and Trivandrum.